How do you feel during this time of lockdown; how do you think this period will affect your art-making process or does it already have an impact on your productions?
I am trying to keep my hands busy, in order to keep some sanity in this endless episode of Black Mirror we all ended up in.
First, I took time to renovate La Pizzeria (my studio). I exploited the free labor of my girlfriend and we poured lots of colors to make la Pizzeria a more pleasant place to work in.
Do you keep producing works during this time? If yes, how do you produce under the changing conditions, do the materials you use differ?
I am currently working on a new series of artworks. Not sure where it will lead, all I know is that it takes forever, it's pure repetition and it will drive me crazy.
Probably it's a reflection of this moment, in which time seems still, every day seems like yesterday, and we are all going nuts.
What are you dreaming of doing following COVID-19?
A beer with friends watching football in a pub.
Are there any differences between your plans before and after COVID-19?
Hell yes. My calendar was packed. Had a massive inauguration at the Milan airport, a 200 page catalogue about to be printed by SKIRA, a solo show in Milan, and I was working on a huge project where I would have used an entire stadium full of people to create a unique artwork. After COVID-19 all these plans are in standby, and I have no clue when they'll start again.
What changes occurred in your daily routine?
I stopped changing city every 5 days and started cooking again.
Karantina döneminde nasıl hissediyorsunuz; bu süreç üretimlerinize nasıl yansıdı ya da yansıyacak?
Hepimizin içinde bulunduğu Black Mirror dizisinin bu sonu olmayan bölümünde aklımı korumak için elimi kolumu meşgul tutmaya çalışıyorum.
İlk olarak, La Pizzeria'yı (stüdyom) yenilemek için zaman ayırdım. Kız arkadaşımın ücretsiz emeğinden faydalandım ve la Pizzeria'yı çalışmak için daha keyifli bir yer haline getirmek için bolca boya kullandık.
Bu süreçte üretmeye devam ediyor musunuz? Evet ise değişen şartlar altında üretim şekliniz, kullandığınız malzemeler farklılık gösteriyor mu?
Şu anda yeni bir dizi sanat eseri üzerinde çalışıyorum. Nereye varacağından emin değilim. Bildiğim tek şey; sonu gözükmüyor, salt tekrardan oluşuyor ve beni deli ediyor.
Muhtemelen bu anın bir yansımasıdır; zaman durmuş gibi, her gün bir önceki güne benziyor ve hepimiz kafayı yiyoruz.
Bu süreç bitimindeki hayalleriniz neler?
Arkadaşlarla bir barda bira içmek ve futbol izlemek.
COVID-19 öncesindeki planlarınız ile sonrası arasında farklılık var mı?
Hem de nasıl! Takvimim doluydu. Milano havaalanında büyük bir açılışım vardı, 200 sayfalık bir katalog SKIRA tarafından basılmak üzereydi, Milano'da kişisel sergim olacaktı ve benzersiz bir sanat eseri yaratmak için insanlarla dolu bir stadyumu kullanacağım büyük bir proje üzerinde çalışıyordum. COVID-19'dan sonra tüm bu planlar şimdilik beklemede ve ne zaman tekrar başlayacaklarına dair hiçbir fikrim yok.
Günlük rutinlerinizde ne gibi değişiklikler oldu?
Beş günde bir şehir değiştirmeyi bıraktım ve yeniden yemek pişirmeye başladım.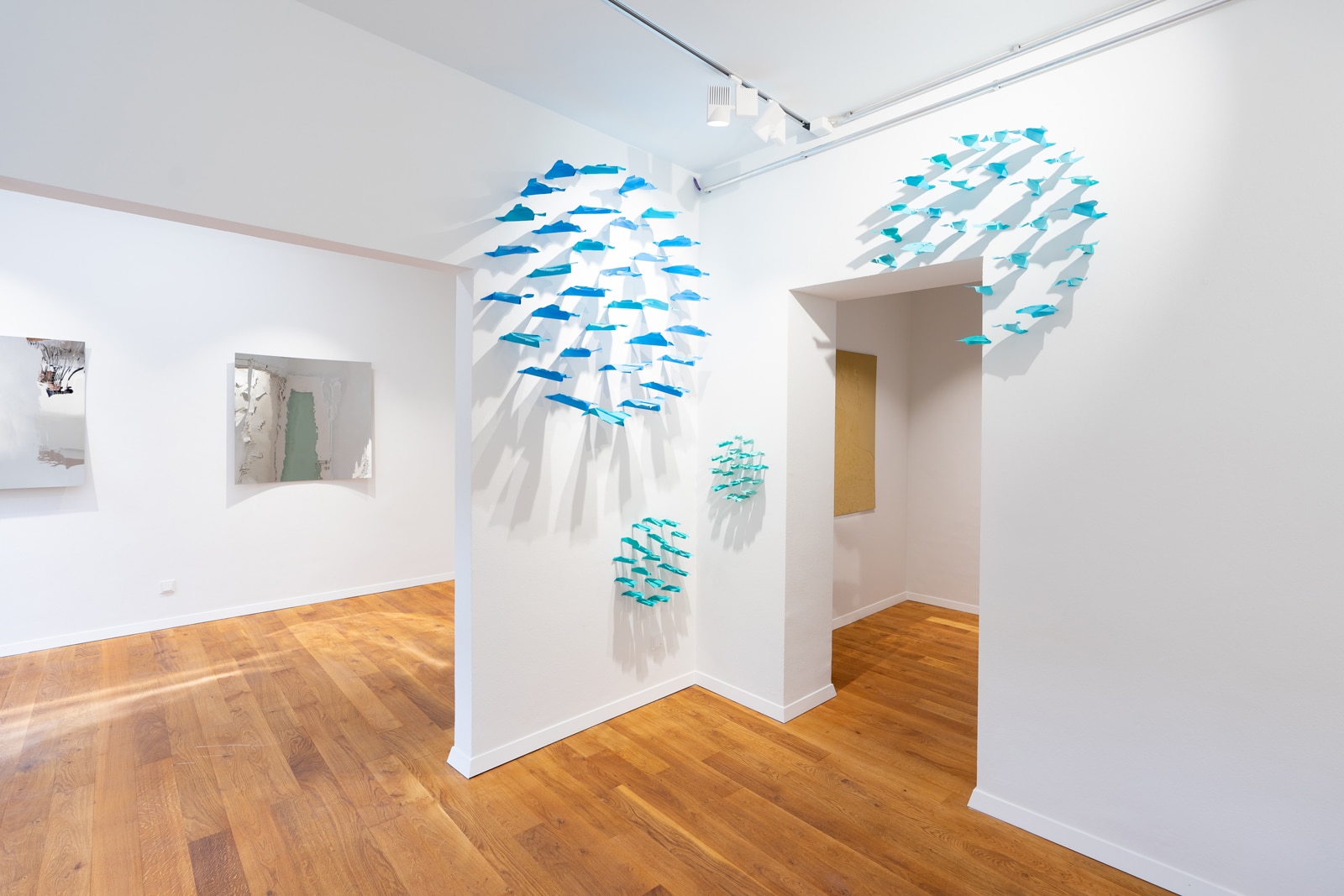 Daniele Sigalot, Installation View "Einmal ist keinmal", Anna Laudel Düsseldorf, 2019
What changes occurred in your daily routine?
I stopped changing city every 5 days and started cooking again.
As an artist, how would you describe the current situation of the world?
Oh well, I guess these are pretty terrible days for being a human. But if we were dolphins or foxes, I guess these were the best days of our lives.
Let's hope in reincarnation.
Unfortunately, your works cannot be seen as physically in this period of time. Can you tell us about your new works conceptually?
I am currently working on 2 things. One is a new series of text-based artworks (just like my post-it and my letters). After a letter to Art, one to Destiny and one to the Future, I wanted to exchange some words with Fear and with Boredom.
The other work I am putting my energies on, is simply an insane act of endless repetition to craft something that is the opposite of what it seems.
I wish I could tell you more, but the work is still in its early stage and it could end up somewhere far from where I intended. So, I rather stay vague.
Günlük rutinlerinizde ne gibi değişiklikler oldu?
Beş günde bir şehir değiştirmeyi bıraktım ve yeniden yemek pişirmeye başladım.
Sanatçı gözünden dünyanın içinde bulunduğu durumu nasıl yorumlarsınız?
Eh, sanırım bunlar insanlık için oldukça korkunç günler. Ama yunus veya tilki olsaydık, sanırım bunlar hayatımızın en güzel günleri olurdu.
Umalım ki reenkarnasyon diye bir şey var olsun.
Bu süreçte eserleriniz maalesef somut olarak görülemeyecek, bu nedenle çalışmalarınızdan kavramsal ve biçimsel olarak bahsedebilir misiniz?
Şu anda 2 şey üzerinde çalışıyorum. Birincisi, yeni bir dizi metin tabanlı sanat eseri (tıpkı post-it ve mektuplarım gibi). Sanat'a, Kader'e ve Gelecek'e yazdığım mektuplardan sonra, Korku ve Can Sıkıntısı'na da iki çift laf etmek istedim.
Enerjimi koyduğum diğer iş ise, göründüğünün tam tersi olan bir şeyi yaratmak için sonsuz tekrardan oluşan delice bir eylem.
Keşke size daha fazlasını söyleyebilseydim, ama iş henüz başlangıç aşamasında ve sonunda amaçladığımdan çok farklı bir yere de gidebilir. Bu yüzden net bir şey söylememeyi tercih ederim.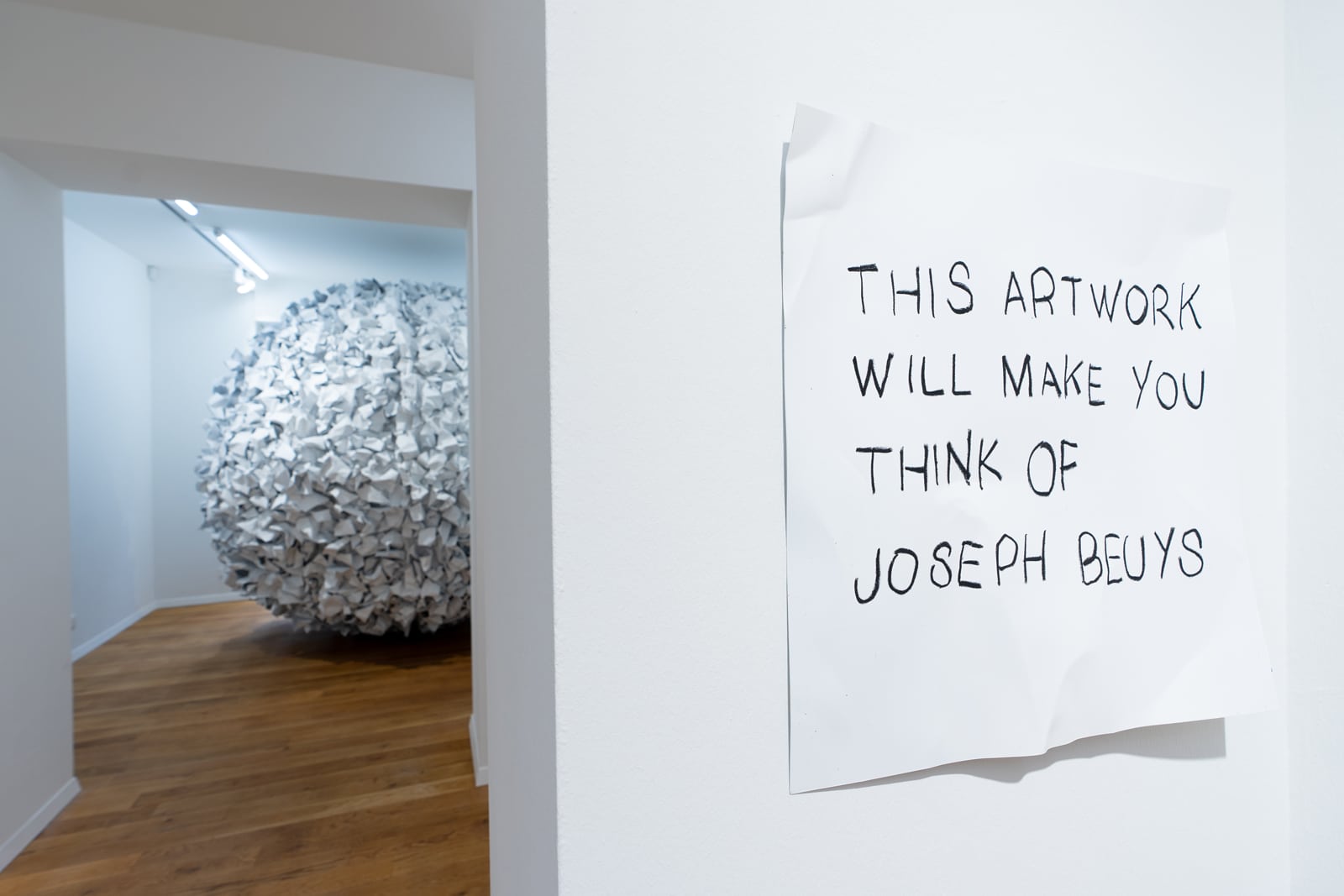 Daniele Sigalot, Installation View "Einmal ist keinmal", Anna Laudel Düsseldorf, 2019